Christmas Message 2014
Dear Sisters and Brothers,
Christmas season is upon us. This season touches one of the most loving moments of God's encounter with humankind: His desire for our well- being shown in Jesus, Emmanuel – God is with us.
Each year we return to this mystery of love; we touch it with our own desire for inner peace and with waiting in patience. We find it awakened in listening to the prophet Isaiah, the prophet of longing, who constantly saw signs of God's promise. This Advent season we listen attentively and patiently to other prophetic voices, the voices of the poor children, refugees, parishioners worshiping in churches destroyed by wars, Missionary priests calling for Mass stipends to assist parishioners in their education, feeding and to buy medicine for their children to whom they minister and who minister to them. With you, we listen to their voices as they wait for food, shelter, for support in their search to know God.
Thank you so much for your continued support of the work of Pontifical Mission Societies as regular donor. Your faithful ongoing commitment is appreciated more than you can ever know, as it enables us to maintain and increase the essential programs and projects we offer to our missionaries in desperate need all around the world.
Our missionaries in South Sudan, Nigeria, The Gambia, Liberia, Ghana, Zambia, Pakistan and Congo persevere to bring the Good News. They are often the only hope for the people they serve. They are working in countries that have suffered political strife, diseases and have left many homeless. I know they are grateful and remember you in their prayers of thanksgiving.
Your support is a tremendous gift of hope to our missionaries. Christmas is a reminder that we are loved.
May you and your families be blessed and may your Christmas overflow with His love and Peace.
Merry Christmas and a Happy New Year!
With much gratitude,
Rev. Fr. Alex Osei, C.S.Sp
Missionary Prayer Intentions
January 2015: That in this year dedicated to consecrated life, religious men and women may rediscover the joy of following Christ and strive to serve the poor with zeal.
February 2015: That married people who are separated may find welcome and support in the Christian community.
March 2015: That the unique contribution of women to the life of the Church may be recognized always.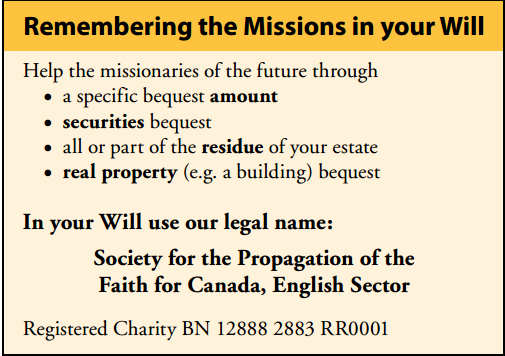 Featured Video
View more
Donate to St. Peter the Apostle