Mission Today Message Spring 2014
Happy New Year to each of you! We move forward to the year 2014 and the Holy Father Pope Francis reminds us of our missionary identity as baptized members of the Universal Church. Baptism, he said, makes us missionary disciples, called to bring the Gospel to the world. The Sacrament of Baptism initiates us into a community of believers, the people of God who share the beauty of the experience of a love that precedes us but calls us to be channels of grace for one another. This communitarian dimension, Pope Francis said, "Is not just a frame, an outline but an integral part of Christian life, of witness and of Evangelization."(Wednesday January 15, 2014 General Audience)
The Church, the people of God is called during the world day of migrant and refugees to embrace all people and bring to them the Good News, for the face of each migrant/refugee bears the mark of the face of Christ. It is in this realization that we find the deepest foundation of the dignity of the human person which must always be respected.
Last year, November during the 82nd General Assembly of the Union of Superiors, Pope Francis admonished Religious men and women to awaken the world and light up the future. He reminded them that God is asking us (RELIGIOUS) to leave the nest that holds us and go out to the frontiers of the world; avoiding the temptation of domesticating them. Pope Francis urged the superiors to live up to the Charisma of their founders. He called us to go to the Outskirts to understand the experiences of the people. Missionaries bring a message that God is alive, not in some obscure place but alive in us personally, alive on the margins of life with those who are most rejected. The Christian message that we carry as missionaries is so life giving and so deeply integrated with simple human liberation that must be shared in friendship with those who have not heard it. To discover that to be truly human is to be truly divine is such an enriching message that must be shared with all in many different ways in the life of missionaries through education, health care, feeding programs and above all through faith in Christ.
At the beginning of 2014, our January/February edition leads us to the frontiers where missionaries experience the face of Christ in the lives of so many who are in search of living water. Thank you so much for being a missionary through your faithful donation to the Missions as presented in the activities of Pontifical Missions Societies. Through our men and women on missions, you support numerous communication programs, Seminaries, catechetical programs and restoration and building of Churches. Please pray for our missionaries. Remember all these we do in memory of Him.
Father Alex Osei CSSp.
Missionary Prayer Intentions
MARCH: That many young people may accept the Lord's invitation to consecrate their lives to proclaiming the Gospel
APRIL: That the Risen Lord may fill with hope the hearts of those who are being tested by pain and sickness.
MAY: That Mary, Star of Evangelization, may guide the Church in proclaiming Christ to all nations.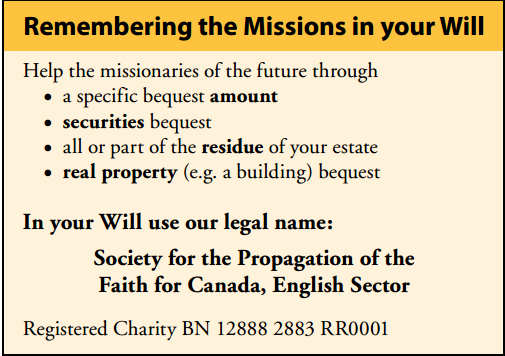 Featured Video
View more
Donate to St. Peter the Apostle